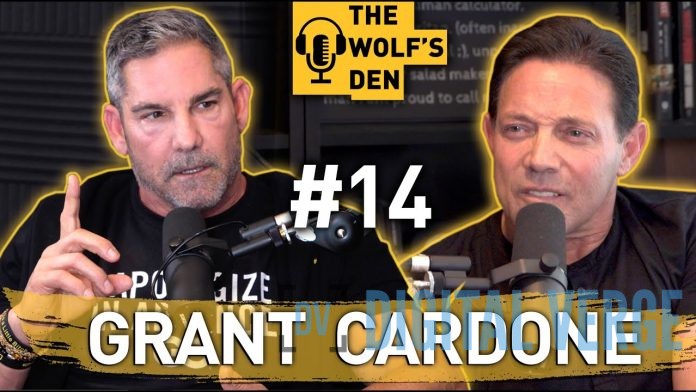 In the sales showdown recently on the Wolf of Wall Street podcast, it was suppose to be an explosive meeting of the minds.
A meeting of heavy weights.
However, it turned out to be an awkward beat down.
Before we dig in, I encourage you to watch the full video below.
When I was watching the podcast, I was genuinely wanting to hear a good discussion on sales and marketing – I had no bias against either Cardone or Belfort.
But the winner was clear.
Jordan Belfort literally destroyed Grant Cardone.
After analyzing the video, I came away with a few thoughts.
For starters, it seems as if Grant is overly hyped with the idea to one up on Belfort.
I'm not sure what his motive was on the podcast, but after seeing some of the responses to basic questions, it appeared Grant was trying to muscle his way over the Wolf.
Again, that's just an opinion from what I'm seeing in the video.
Grant Cardone's I Got Fish Pitch
At one point, Jordan Belfort asked Cardone where he got started selling which Cardone replied that he sold fish.
Belfort asked him to describe his pitch and Cardone shocked everyone with the following…
"I Got Fish"
Now, in the aftermath of Cardone's poor podcast performance, Cardone's videos are now filled with comments of "I Got Fish".
That's not all though.
Cardone admits to charging multiple price points.
With Cardone insisting there's no tricks in sales, he said something he probably will regret later on.
He admitted to charging multiple price points and stating "that's the real trick".
He stated he has charged as much as $80,000 for companies that he charged $100 for individuals for the same product.
Now, we're all for maximizing our profits and testing multiple price points, but that seems a bit extreme.
Marketing Vs Selling
In the podcast, it seemed there was some confusion on marketing vs selling as Grant continued to spout off ridiculous, cliches about building funnels.
When Jordan was asking for specific strategies for closing more sales after you get the leads, Grant would suggest filling your pipeline.
While sales funnels are a big part of the digital marketing world and we recommend this software called Kartra, it had nothing to do with the sales strategy talk.
Not to mention, Grant suggested they get into a cage match to duke it out.
All in all, it made for a really weird podcast that was hard to watch at times but you can see how clever the Wolf of Wall Street was in dealing with the ridiculous barrage of cliches and insults from Uncle G.
Enjoy 🙂