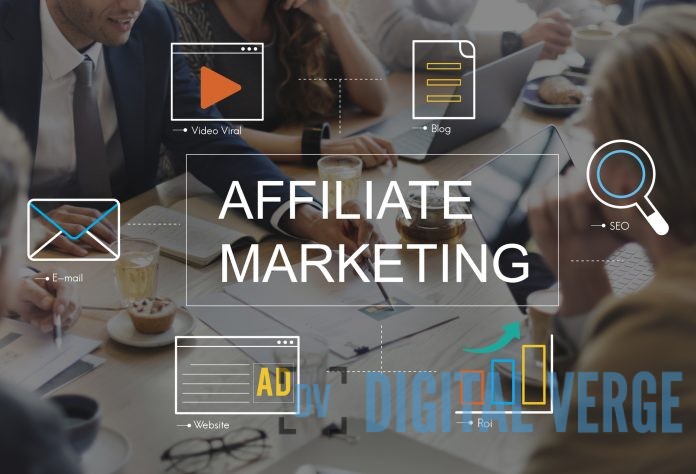 In this guide, we'll go over how to start and monetize your site with affiliate marketing strategies.
What is Affiliate Marketing?
Affiliate marketing is a process through which you can promote other people's product or services online and earn money for that. Here, the online retailers will pay you a piece of commission for every traffic and sales generated from your referral. In simple terms, you will get money for recommending the merchants product or services to your audience or friends online. Find the product you like or you think is in demand, promote it to others and earn a profit on each sale you make. Hence, affiliate marketing allows you to make money online even if you don't have any products of your own.
You can do this by simply adding the affiliate link to your website's content or can do an entire review about the product or services. Either way, you will earn a commission when someone will click on any of your affiliate links or end up buying the product or services.
The commission is paid by the company and there will be no additional cost added to the reader when they click and buy the product.
For example, take a look at this Gunnar Glasses Review and you'll find a very detailed review of a product. Once someone clicks on one of these listings, the website gets the commission.
How to get started with affiliate marketing?
If you want to get started with affiliate marketing, here 5 steps you need to follow to earn your first commission:
1. Choose your niche
Before building your website, you need to find out which niche you are going to target. The best way to find what your niche is by asking yourself some question such as what topics you are really passionate about, if there is enough money in your niche or not, what topic you want to write about and the related products or services, if there is any demand for that product or services or not. Finding your niche will make your work easier and moreover if you have passion in your niche, then it will generate interest and knowledge to write high-quality content more.
Furthermore, create a website or blog of your niche. However, if you already have a blog, make sure that you are using the right blogging platform and that platform allows you to run an affiliate marketing campaign. For instance, if you are using WordPress, there are some limitation. On the other hand, if you are using self-hosted WordPress website you are good to go. On self-hosted WordPress website, you can add affiliate links of any product or services and effectively manage your campaign.
2. Choose the right affiliate program
When you figure out your niche and what product you are going to put on your blog, you still have to research more about the right affiliate program. If you pick up the wrong ones, you may end up earning little profits and may lose your customer.
Here are a few ways to find out the right product you can promote:
Promote the product you are already using and find it useful. It will be easier for you to convince your reader about the quality of the product. Then go to the website of the product and search for keywords like "Affiliate", "Affiliate Program", "Partner". Many companies are looking for the affiliate marketer to promote their product, therefore they add a link to their affiliate marketing program on their website.
Another way to find the product is by spying other bloggers. Watch them closely, what your competitors are doing and what products they are promoting. If you think you can promote the same product better than them, just go for it. This is the easy way to find relevant affiliate product in your niche.
You may join affiliate networks to find the product. These websites are the mediator between affiliate marketers and merchants. This helps you find out the products very quickly as most of the companies are on this platform.
Lastly, you can also reach out to companies by sending them an email. They may have no affiliate links on their website, however, they can send you the link to participate in their affiliate marketing program.
3. Install affiliate marketing tools on your site
There are a lot of great affiliate marketing tools mostly plugins available on WordPress which helps you in your affiliate marketing campaign. These plugins are easy to use. Sooner or late when your blog will grow, you will add more and more affiliate links and it will become difficult for you to manage those link. These plugins help you in organizing and managing your affiliate links. Moreover, you can add an image, track the statistics of your affiliate links through these plugins. There are quite enough options available to choose from.
4. Create quality content
Now is the time to publish high quality and valuable content so that the audience can read your content and find it useful. Here writing high-quality content is the key. You can paste your affiliate link anywhere on your blog, but you have to convince your reader why they need to click on the links. Your users will get convinces only when you offer them useful and problem-solving information. They will visit your website when you will solve their problem and eventually they will click on the affiliate link. Show them how your affiliate products or services help them in solving their problems.
Furthermore, you can create the content as tutorials, review post, video reviews, product comparison with pros and cons, step by step guides, checklist, and much more, Whatever topic and content types you choose, make sure you are writing in-depth content. Lastly, add a beautifully designed call to action button which encourages them to click.
5. Build an audience
Building audience is extremely important as the interested audience will not only bring traffic to your website but will also result consistently in sales for you. Promote your content on social media such as Facebook, Instagram, Twitter, and Pinterest depending upon where your target customers hang out. There is a large number of population available on social media. Promoting your product on various social media will help you in bringing traffic to your blog.
In addition to that, you may also build an email list. Build your email list with the lead magnet or encourage your audience to sign up for your updates. You can send your content via email. Moreover, you can also write as a guest on various blogs of your niche. By writing content on different websites, you can capture another audience for your website and showcase your expertise thereby increasing the traffic for your website.